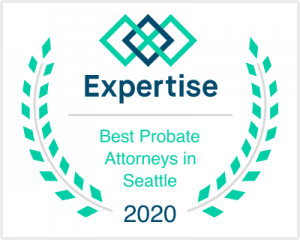 We are proud to be is among the Top Probate Law Attorneys in Seattle. Probate is the process for administering a person's estate after death. The process involves appointing an administrator to gather the probate assets of the person who died, determining what taxes are owed, paying the bills and distributing whatever is left over to the beneficiaries. 
For uncomplicated estates, the probate can be done in less than a year and the administrator will not need to go to court.  Probate is not generally overly burdensome for these types of cases.  We keep a close eye on keeping costs down for clients by having experienced probate paralegal support and using secure technology to enable clients to navigate the process in an easy-to-use and portable manner.
However, probate for complicated estates can take much longer, perhaps years. We have seen all kinds of disputes and difficulties that can arise while settling a probate case.  Seattle Probate Attorney Lisa Ellis knows how to provide valuable solutions to her clients that come into play before resorting to litigation between the beneficiaries or others having an interest in the estate.
1001 Fourth Ave., Suite 3200
Seattle, WA 98154
phone: (206) 684-9458
info [at] lisaellislaw.com
We are committed to providing practical yet innovative solutions to advance strong cases. Our goal is to provide diligent, effective representation and individualized, result-oriented services.
Proudly serving all of Seattle, Bellevue, Redmond, Kirkland, Issaquah, Woodinville, Sammamish, Mercer Island and Shoreline.