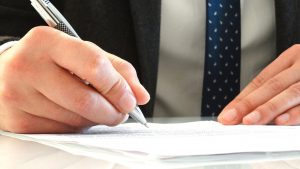 After you get your Letters of Administration as the Administrator or Executor of the Estate, you will need to set up a separate checking account for the estate with a banker.  When ordering checks, consider that the expenses will not be ongoing.  You'll need enough checks to pay for funeral expenses, taxes, professional fees, reimbursements, other expenses associated with the winding up of the estate.  Ordering four books of checks should be plenty even for a large estate.
You have a lot of flexibility about which bank to open the account. To keep your learning curve to a minimum, however, you may want to consider using the bank branch you normally use for your personal banking.  Having already established a personal relationship with bankers and tellers can be an advantage to you when you have questions about your balance and when making transactions.
You should bring the following with you so the banker can set up the account:
EIN number. To apply online, click https://sa.www4.irs.gov/modiein/individual/index.jsp.  (This is the fastest method.)
Original Letters of Administration
Death Certificate
This account will need to stay open for the duration of the probate which means until taxes are paid and property is distributed.  You will use this account to pay bills for the estate and the statements generated by the bank will provide records for the estate taxes, if any, and for accounting to the beneficiaries.  You will also use this account to make any deposits such as cash, refunds, and bank transfers.  If you are considering investing the estate funds, you should contact a qualified financial planner and your estate attorney before doing so.