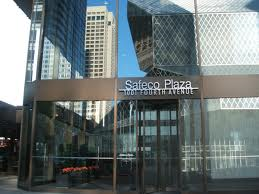 We invite you to contact our office for a consultation to discuss your case. Please call us at 206-389-1503 or send us an email at info@lisaellislaw.com.  
We are located in the Safeco Plaza building which is directly across from the Seattle Central Public Library on Fourth Avenue between Spring and Madison streets in downtown Seattle.
While we are located in Seattle, we serve clients throughout King County for probate matters, Western Washington for estate and elder planning matters; and handle immigration matters throughout the U.S.
Getting to our Office:  We are accessible by public transportation.  If street parking is not available, we suggest parking at the paid underground lot at the Seattle Central Library directly across the street (rates available here) or at the underground parking lot of our building (rates posted here).  Both lots provide disabled parking spaces.
Current operations:  In order to protect the health of our staff and clients during Covid, our office is closed to in-person appointments with the exception of will signings). However, we are available for virtual consultations and telephonic consultations when appropriate.  We are working both in the office and remotely. Please note that there may be a delay in responding to your phone call if you leave us a voicemail.  Our email address is info (at) lisaellislaw.com. Thank you for your patience and understanding.
1001 Fourth Ave., Suite 4400
Seattle, WA 98154
phone: (206) 389-1503
info [at] lisaellislaw.com
We are committed to providing practical yet innovative solutions to advance strong cases. Our goal is to provide diligent, effective representation and individualized, result-oriented services.