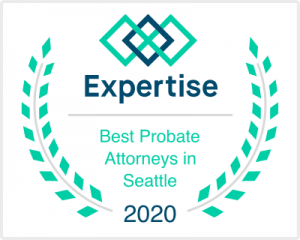 We are proud to be is among the Top Probate Law Attorneys in Seattle.
Probate is the process for administering a person's estate after death. The process involves appointing an administrator to gather the probate assets of the person who died, determining what taxes are owed, paying creditors and distributing whatever is left over to the beneficiaries. Following the death of a loved one, it can be difficult for a personal representative to handle probating an estate or administering a trust.  It can be overwhelming to sort through the estate property, navigate the probate process with family members, and follow required court procedures.  We have dealt with these challenges and bring compassion and a personal touch to assist our clients through this process.
In Washington, most probates are handled without court intervention.  The executor is given broad responsibilities and trust which must be carried out specifically and normally without the court's supervision.  The probate process takes at least four to six months to properly serve the creditors and wrap up the estate.
However, a probate will most likely take longer to close if a federal tax return filing is required, a house needs to be sold, there are questions about who are the beneficiaries under the Will or if the estate has debts.  These are just a few examples of issues that may arise in a probate case.  Executors must perform their duties with appropriate knowledge of property, tax, and other laws and regulations.
We provide excellent support to our clients while guiding them through the process.  At Ellis Law, we offer an exceptional team to help clients with probate and estate administration matters.
5400 Carillon Point
Kirkland, WA 98033
phone: (425) 576-4120
info [at] lisaellislaw.com
We are committed to providing practical yet innovative solutions to advance strong cases. Our goal is to provide diligent, effective representation and individualized, result-oriented services.

Proudly serving all of Seattle, Bellevue, Redmond, Kirkland, Issaquah, Woodinville, Sammamish, Mercer Island and Shoreline.