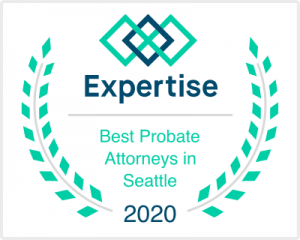 We are proud to be selected among the Best Probate Law Attorneys in Seattle.
Probate is the process for administering a person's estate after death. The process involves appointing an administrator to gather the probate assets of the person who died, determining what taxes are owed, paying creditors and distributing whatever is left over to the beneficiaries.  In Washington, courts do not normally supervise probate and estate administration matters and executors are given broad responsibilities to manage the estate property for the heirs as a fiduciary.
We started helping clients with probate cases five years ago. We have assisted clients with large taxable estates and less complex cases. We've seen many types of challenges in probating and estate administration and we know how to solve them.
We have a client-focused approach in our probate and estate administration practice. We are compassionate to our clients and understand the difficulties that can be associated with probating or administering an estate for a loved one.  We strive to make the process easier than it might be for a lay personal representative to settle the estate independently and more cost-efficient than it could be to hire a firm with larger overhead.  If you need help with probating or administering an estate, please contact us.
40 Lake Bellevue Drive, Ste. 100
Bellevue, WA
phone: (425) 296-6271
info [at] lisaellislaw.com
We are committed to providing practical yet innovative solutions to advance strong cases. Our goal is to provide diligent, effective representation and individualized, result-oriented services.

Proudly serving all of Seattle, Bellevue, Redmond, Kirkland, Issaquah, Woodinville, Sammamish, Mercer Island and Shoreline.